Cognitive Scientist: An all-in-one User Researcher, Data Scientist, and Expert
As an experienced cognitive scientist with over 10 years of experience, I am skilled at gaining insights from numerous data sources that can be used to inform business decision making. I am constantly working to expand my toolbox of research methods and statistical analyses to help my company learn about their customers, how their products are being used, and where improvements are needed. 
Throughout my work, I seek out feedback from real users at every turn of the product lifecycle, learn about their motivations and experiences, and then translate the value customers get from these products into actionable insights. Below is a sample of different methods and approaches I've used to answer different research questions.
Employing a single approach can answer a single type of question.
However, as an experienced researcher, I know that the stakeholders I work with have more than one question, which may or may not be the ones think they want answered. I use my expertise to go beyond a single study to create research programs that uncover unmet and underserved customer needs through triangulation. 
Research programs are created and executed on a quarterly to annual basis (depending on the size of the problem to be addressed), with feedback and priorities identified through collaboration with stakeholders (generally throwing in a few extra questions they may not have considered before). Each program fluidly incorporates several studies, literature reviews, existing data evaluations, and external resources to answer high priority questions about our users' needs, thoughts, feelings, and behaviors.
Although set up on a quarterly basis, the research program can be easily adapted at any point to answer new questions that come up along the way, or pivot toward an entirely novel product based on company goals and priorities.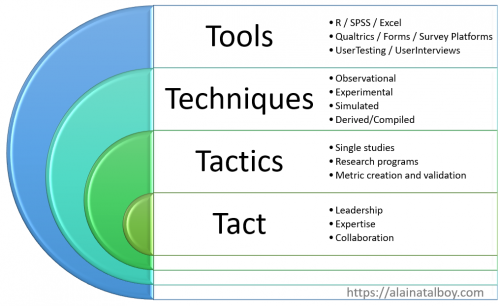 Although I am not a "data scientist" in the technical sense (or even in the HR sense), I've come to find myself easily stepping into a wide range of data analytics roles due to my extensive portfolio of research methods, analysis techniques, and expertise in human behavior and cognition. My current exploration using all of these skills is to identify and match unique data inputs to customer success metrics as a method for driving business success metrics.
[I got the idea of the Four T's from Felipe Rego. 
Four Ts: Tools, Techniques, Tactics, and Tact.]
As you can see, hiring a Cognitive Scientist is not just hiring a
user researcher who can select the right method for each research question,
data scientist that mixes and matches (and sometimes creates) analytic approaches as needed,
or an expert who provides valuable insights from a variety of sources to drive business success.
I add value to my employer by using my ever evolving portfolio of skills to discover and create customer success metrics that drive business success metrics.