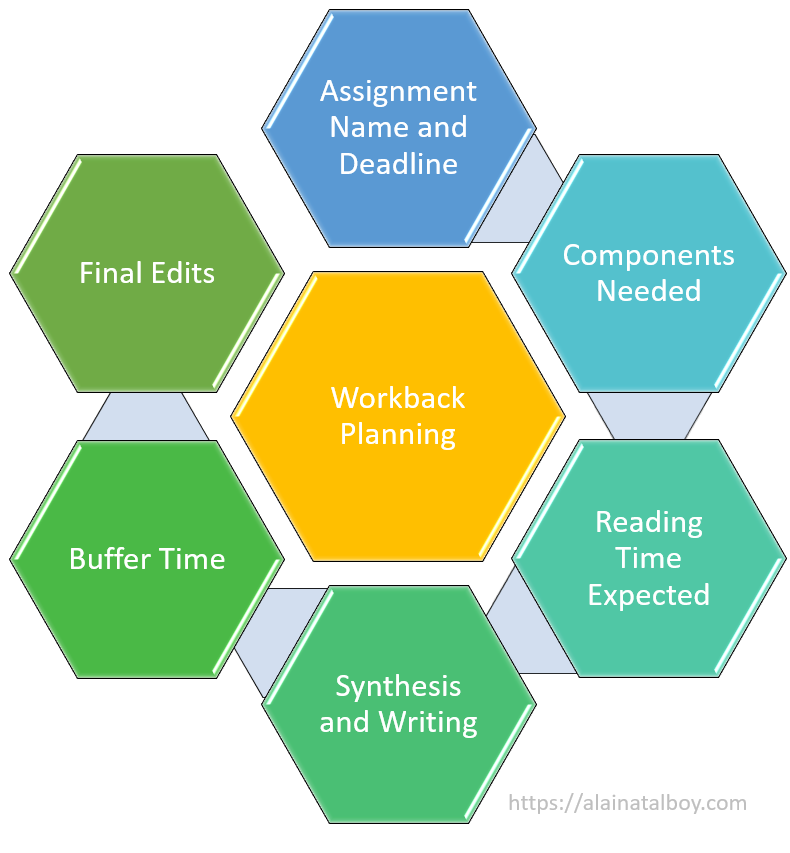 A workback plan starts with the due date, the deliverable, and all the components that are needed to create the deliverable. For the graduate student (or even the studious undergraduate), practice creating, implementing, and closing out these plans starts with reading through a course syllabus at the beginning of the semester. [Cue the audible groans.] Yes, you must read the syllabus. Please read the syllabus. Over 90% of the time, this document includes literally everything you need to pass the class.
The course syllabus is a living document that includes a bunch of technical information (often required by the department/college/university), but many will include what is called a scheduled list of assignments. This list will provide all of the required chapter readings, assignments, quizzes, and exams dates. By reading through this document, the student will know what is expected of them throughout the entire semester for the course. As a student, a syllabus is an excellent guide that you can use to create your very own workback plan designed to help you succeed (i.e., pass the class).
Before we get into the nuts and bolts of what a workback plan includes, let's take a quick detour to talk about software. Creating a workback plan doesn't require fancy project management software, though if you do go that route there are several options available. I never personally used any of them so I cannot vouch for one over another. Digital alternatives include Excel, OneNote, and even an online calendar. However, no matter what method you choose, the only way a workback plan is going to actually help is if you put in the time and energy at the beginning of the semester and really think through what each course you are enrolled in is going to need.